Sale Page!
How to Buy From Us
Why Choose Organics?
Definitions
Baby Comforts
Breakfast for Champions
Lunch Box Ideas
Sit Down Meals
Family Health Maintenance
Hygiene/Bath Essentials
Moms' Corner
Fourteen Most Important Foods to Eat Organic
Recommended Reading
Words to Live By
Who We Are
You have two jobs. The first is to discover and sing your own song.
The second is to spread love.
Both will entail dancing.

--Pam Grout
Living Big
Small is the number that see with their own eyes
and feed with their own heart.

--Albert Einstein
The Occasional Sweet Treat
Alright, we're human, and we've tasted sweet before, . . .and we've liked it. However, too many sweets throws the pH of our bodies into the acidic zone. If a body is acidic, it is more prone to diseases and illnesses.

If you must eat sweet, do so with moderation.


Here are some of our favorite natural sweets: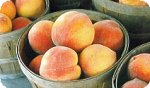 Organic peaches, chilled organic grapes, sweet organic strawberries, ripe juicy mangos . . .
and . . .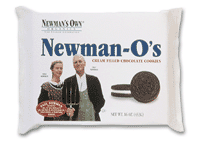 Newman-O's.
Good ol' Paul. Still exceeding expectations and sharing a darn good dream. Thank you, Paul for an organic vision, your wonderful philanthropy, and a great sense of humor! Mega-mega yum!
Ingredients: Organic Unbleached Four, Organic Sugar, Powdered Dehydrated Cane Juice (Corn Starch*), Canola Oil (Expeller Pressed), Organic Cocoa, Cocoa (processed with alkali), Organic Unsweetened Chocolate, Natural Flavor, Salt, Sodium Bicarbonate, Soy Lecithin (an emulsifier*), Natural Peppermint Oil. Mint Creme: includes Peppermint Oil Chocolate Crème: includes Organic Cocoa, Cocoa (processed with alkali), and Organic Unsweetened Chocolate *corn starch and soy lecithin are from GMO-free certified sources.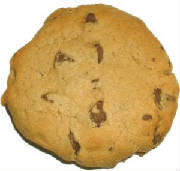 Uncle Eddies Vegan Chocolate Chip Cookies.
Oh, man! These are sinful, and rich, and soft, and . . ."gimme the bag!"
Ingredients: Unbleached flour, organic evaporated cane juice, chocolate chips (no dairy, no refined sugar), soy margarine, organic brown rice, syrup, vanilla, lecithin, unsulfered molasses, baking soda, unsweetened cocoa & sea salt, walnuts.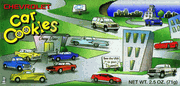 Chevrolet Car Cookies.
So fun to eat and so very tasty. Say goodbye to the transfats in your favorite animal cookies and try these tasty natural alternatives.
Ingredients: Enriched wheat flour, sugar, soybean oil, corn flour, whole eggs, natural flavors, oat flour, butter, leavening, salt, soy lecithin. Low fat, low sodium. The cookies are made with real butter, contain all natural flavors, and are made without hydrogenated oils.



Stonyfield Farms Creme Caramel Ice Cream or Yogurt.
Organic cream, organic whole milk, naturally-milled organic sugar, organic nonfat dry milk, natural caramel flavor, salt, organic natural vanilla, carob bean gum, guar gum, pectin.


Oh, Pudge! Chocolate Brownie Mix.
Remember when brownies tasted really good? "They're back!", and they will come from your own oven. Add walnuts. No need for frosting. Mix just requires vanilla yogurt. Easy. Worth it.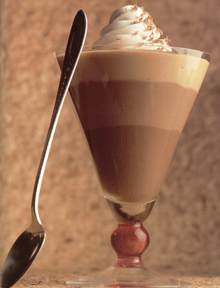 Hain's Super Pudding in Vanilla or Chocolate.
Just like great-grandma used to make, before the supermarkets put pudding in little plastic cups and added fake food to it. Now this is real pudding!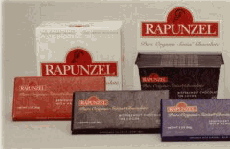 Rapunzel organic chocolate bars.
Certified organic ingredients: Cristallino (whole, refined once, evaporated sugar cane juice), unrefined cocoa butter, whole milk powder, hazelnuts (18%), cocoa liquor (100% crushed cocoa beans, non-alcohol), vanilla beans, GMO-free soy lecithin. May contain traces of wheat, nuts, soy, and peanuts due to processing equipment.



Grilled Peaches.
You will need 1 peach for each person. Halve peaches. Extricate pit. Rub peach halves lightly with olive oil. Grill each side for 4 - 7 minutes. Drizzle with honey. Top with dollop of fresh whipped cream. Luscious!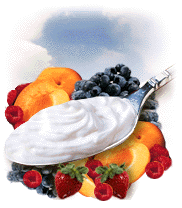 Yogurt with trail mix and organic berries.
Just like it sounds. Add it, then eat it.



Ahlaska Chocolate Syrup and Horizon Milk.
Serve in chilled glass. Drink till there's a light brown moustache on your lip.

Kid's ice-cream in a baggie.
You will need:
1/2 cup milk
1/4 cup half and half
1 tablespoon sugar
1/4 teaspoon vanilla extract or 1/2 tsp. of chocolate syrup
2 sandwich size Ziploc bags
1 one gallon size Ziploc bag
2 cups ice
1 tablespoon coarse salt

1. Put one small Ziploc bag inside the other and add the milk, half and half, sugar, and vanilla extract to the inside bag.
2. Seal both bags securely, removing excess air.
3. Add ice and salt to larger bag and place smaller bag inside. Seal firmly.
4. Let the kids shake themselves silly -- shaking, tossing, and turning the bag. Ice cream will be soft and ready to eat in 5 to 10 minutes.
Pumpkin and Fresh Ginger Cookies

Ingredients required:


1 1/4 c. light brown sugar
1 c. pumpkin puree
1 lg. egg
1 Tb. grated fresh ginger root
2 Tb. sour cream
1 tsp. vanilla
1/2 c. unsalted butter
2 1/4 c. flour
1 tsp. baking soda
1 tsp. baking powder
1/2 tsp. sea salt
1/2 tsp. cinnamon
1 c. chopped walnuts
1 c. currants or chopped raisins


Preheat oven to 350 and lightly grease cookie sheets. Combine sugar and butter 'til smooth. Add pumpkin, egg, ginger, sour cream and vanilla to smooth paste. Add dry ingredients. Add walnuts and currants/walnuts. Spoon onto baking sheets and bake for 15 minutes. Cookies should be soft to touch. Makes delicious cookies!
Now that you've succumbed to a sugar fix, remember to alkalize/rebalance your body by drinking a teaspoon of organic apple cider vinegar!!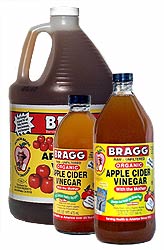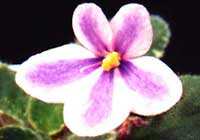 Forgiveness is what the violet gave the foot
who stepped on it.
--Unknown