Homepage
Baby Comforts
Breakfast for Champions
Lunch Box Ideas
Family Health Maintenance
Hygiene/Bath Essentials
Moms' Corner
Fourteen Most Important Foods to Eat Organic
Words to Live By
Who We Are/Contact Page
Natural, Homemade Alternatives to Toxins
Natural Products for Your Home
Therapeutic Essential Oils and Supplements
Definitions
Friends of KidsOrganics.Com
Bath and Hygiene Essentials
For the Whole Family
Soft, gentle and safe--The whole family needs assurance that the products used for hygiene and cleanliness are healthy and safe as well as gentle, soft and naturally fragrant.

We at KidsOrganics research, recommend and purchase products whose ingredients are found wholly in Nature.

Look for products whose ingredients can be grown in your or a neighbor's garden. Avoid products that have "artificial fragrances or colors", as these are petroleum based (yes, Uncle Jed--bubbling crude!). You may be surprised to find that many ingredients in familiar products, are not very humane and/or environment friendly at all. Refer to Toxic Chemicals in Everyday Products, to view a list of products we recommend you avoid putting on your skin or into your bodies.

Arm yourself with education, you will find yourself shopping wiser and healthier.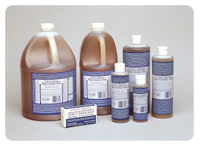 Dr. Bonner's Soaps
These versatile castille soaps can be used as shampoos, bubble bath, hand soap, and home cleaners. Try peppermint for energizing body or home care, eucalyptus for colds and detoxification, or lavender for calming.
Because these soaps use essential oils, they are naturally antibacterial and antiviral. Primary basic ingredients in Dr. Bronner Soaps: Water, saponified hemp, olive, coconut (with retained glycerin), olive fatty acids, peppermint, eucalyptus or lavender oil, and rosemary extract
To get discount prices and fast delivery, see The Vitamin Shoppe
. Just type in Dr. Bonner's.


Thieves Essential Oil Soap by Young Living.
Say "goodbye!" to the antibacterials and HELLO! to this amazing natural antibacterial soap! The essential oils are the ticket to the effectiveness of this soap. The ingredients speak for themselves. This bar is effective and lasts through a good bit of scrubbing.
Ingredients: Saponified Elaeis Guineensis (Palm) Oil, Cocos Nucifera (Coconut) Oil, and Olea Europaea (Olive) Fruit Oil; Vegetable Glycerin; Syzygium Aromaticum† Flower Bud Oil; Lycium Barbarum Seed Oil, Avena Sativa‡ (Oat) Kernel Meal, Simmondsia shinensis (jojoba) Seed Oil, Citrus Limon† (Lemon) Peel Oil, Aloe Barbadensis Leaf Juice, Cinnamomum Verum† Bark Oil, Eucalyptus Radiata† Leaf Oil, Rosemarinus Officinalis (Rosemary) Leaf Extract.
Young Living Therapeutic Grade™ essential oil.
‡ Organically grown in accordance with the California Organic Foods Act of 1990.
Find on Young Living Essential Oilswebpage 3.45 oz.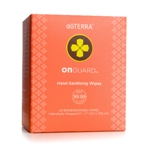 Natural Hand Wipes--OnGuard
These are quick, non-drying, natural wipes are formulated to eradicate 99% of most germs. Use them on little hands before lunch, after sneezing, after picking up after Fido. You will love the natural fragrance. Wonderful for the winter and everyday family events.
Ingredients consist of wild orange, clove, cinnamon, eucalyptus, and rosemary essential oils.
Find the OnGuard wipes at DoTerra Journey

J.R. Liggett's Bar Shampoo
Great bar shampoo for every member of the family. Works very well on small children as the lather stays on top of head, where it's supposed to be. As with any soap or shampoo, try to keep out of eyes.
Ingredients: Olive Oil, Coconut Oil, Castor Oil, Fresh Pure New Hampshire Spring Water, Sodium Hydroxide (a binder), Essential Oils for fragrance.
Price: $5.75 for 3.5 oz.

Evening Primrose Shampoo Bar by Primrose Soaps
We found bar shampoos to work great on kids! The lather stays on their heads, and it seems to be just the right amount. You can easily rinse off the shampoo back off the face with a wet hand. :)
Ingredients: Olive, Palm and Coconut oil, Sodium Hydroxide, Distilled Water, Evening Primrose and Jojoba oils, Cocoa and Shea Butter, Cayenne Pepper, Lemongrass, Lemon, Lavender, Geranium and Rosemary essential oils.
Price: $3.95 for approximately 4 oz.

Burt's Bees Rosemary Mint Shampoo Bar
Lathers up nicely. Kids smell lovely for hours until they get back in the mud or have dirt fights.
Ingredients:Vegetable soap, vegetable glycerin, rosemary oil, yucca schidergera extract, oat protein, peppermint oil, mettle leaf, rosemary leaf, avocado oil, coconut oil, panthenol (pro vitamin B5).
The Vitamin Shoppe
. Just type in Burt's Bee's


Natural Baby and Kids Shampoo by Aubrey Organics.

Kids Organics loves all Aubrey products. EVERYTHING is natural in these products! We can't say enough about the continued, consistent integrity that Aubrey brings to the "personal hygiene care" field.
This little shampoo is very calming. It is perfect for children afraid of shampooing---note the chamomile, fennel, hops and mint.
Ingredients:Deionized water, coconut oil, liquid protein, fennel extract, hops extract, balm mint extract, mistletoe extract, chamomile extract, yarrow extract, allantoin (comfrey leaf extract), vanilla and almond oil (for a natural baby fragrance), citrus seed extract with vitamin A, B and C as a preservative.
To order, go to Aubrey Organics.

Primrose Tangle-Go by Aubrey Organics
This is a natural, no chemical styling spray in a pump bottle. Conditions and makes hair shine. Soothing and cool. Nice.
Ingredients: Natural grain alcohol, deionized water, witch hazel, mucopolysaccharides, lavender oil, lanolin, aminobenzoic acid (PABA), vegetable glycerine, primrose oil, panthenol (vitamin B-5).

To order, go to Aubrey Organics.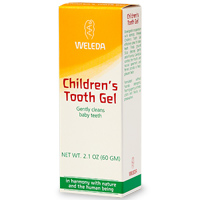 Weleda Children's Tooth Gel
Ingredients: Glycerin, Water (aqua), Hydrated Silica (aqua), Calendula Extract (Calendula Officinalis), Algin, Fennel Oil (Foeniculum Vulgare), Spearmint Oil (Mentha Cardiaca), Esculin
Our kids love this. Even the toddlers can practice brushing as there is no toxic fluoride in this natural toothpaste!
The Vitamin Shoppe
. To order, type in Weleda.


Plant Gel Toothpaste for Delicate Gums
by Weleda.
Ingredients:Water, vegetable glycerin, lemon juice, guar gum, krameria extract, myrrh extract, licorice root, peppermint oil, spearmint oil, star anise oil, menthol crystals, sage oil, eucalyptus oil, geranium oil, lavender oil, and clove oil.
Clove douses pain, myrrh helps with skin issues, and NO fluoride in this!
The Vitamin Shoppe
. To order, type in "Weleda".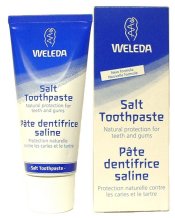 Salt Toothpaste with Baking Soda
by Weleda.
Ingredients: Sodium Bicarbonate, Water, Glycerin, Fragrance: a mixture of pure essential oils, Silica, Blackthorn (Prunus Spinosa) Juice, Guar Gum, Sodium Chloride, Myrrh Extract, Krameria Extract, Aesculus (Horse Chestnut) Extract, Aesculin, Arum Maculatum*; Alcohol, Jojoba Oil.

This toothpaste seems to take away all the plaque that remains on teeth after brushing--just dries it up and leaves teeth clean and fresh, darn near close to feeling flossed!.
You can find this and other Weleda products at the Vitamin Shoppe.



Tea Tree Oil (Melaleuca Alternifolia),
by Young Living Oils.
Tea Tree Oil is a natural anti-bacterial that is great to have on-hand. Use it to fight athlete's foot, to put on scratches and scrapes or to dab under your nose when congested.
Ingredients: Organic Tea Tree Oil.
Go to Young Living Oils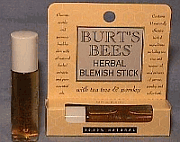 Herbal Blemish Stick by Burt's Bee's

Wow! This little golden liquid rolls right over skin eruptions with ease, and eradicates them! Amazing! We're glad to have it on-hand when we've indulged in chocolate or torn open a bag of Terra Chips!
Ingredients: SD alcohol 40-B (from yellow corn), calendula extract, borage extract, yarrow extract, parsley extract, willow bark extract, lemon oil, fennel oil, tea tree oil, juniper oil and eucalyptus oil.
The Vitamin Shoppe
. To order, type in "Burt's Bee's".
Or click onto www.burtsbees.com to see what great other products they have!


If you are interested in hygiene products specifically for mothers, please visit us at Mom's Corner.