Homepage
How to Buy From Us
Lunch Box Ideas
Sit Down Meals
Carry-bag Essentials for Any Age Child
Fourteen Most Important Foods to Eat Organic
Baby Comforts
Moms' Corner
Family Health Maintenance
Assemblies For School or Organization
Individual Consultations
Fresh, Organic Produce To Your Door!
Hygiene/Bath Essentials
Definitions
Toxic Chemicals Lurking in Everyday Products
Words to Live By
Recommended Reading
Who We Are
Links We Love
"How wonderful it is that nobody need wait a single moment before starting to improve the world"
---Anne Frank
Breakfast For Champions
No one can argue that breakfast is the most important meal of the day. Breakfast kickstarts the morning. Breakfast sets the tone for the day ahead.

Supply positive energy and nourishment to yourself and your children by giving yourselves great-tasting whole grain foods, low in sugar, void of hydrogenated fats, low in saturated fat, preservative, pesticide and chemical-free, and of course, non-modified (no GMO!).

If you are running late, put cereals into a zip-lock bag on the commute to school, daycare or work and bring along a sippy cup of milk. You can rest assured you and your childrens' brain function will be at ultimate capacity and focus for the day ahead.
---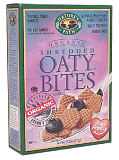 Oaty Bites by Nature's Path.
We love Nature's Path. Top-notch. Reliably organic. Great tasting Oaty Bites is crispy and fills your bowl with the essence of blueberries. Yum!
Ingredients:Organic whole oat flour, organic brown rice flour, organic corn meal, organic evaporated cane juice, organic barley malt extract, sea salt, blueberry extract. Great for kids that need to avoid wheat or are on gluten-free diets!
Price: $4.50 for 12.5 ounces.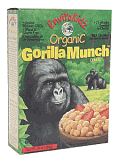 Gorilla Munch by Nature's Path
Reminds us of when we were kids and food was still food, but of course, with a lot less sugar! Great cereal for kids (or adults!) that need a gluten-free cereal!
Ingredients: Organic corn meal, organic evaporated cane juice, sea salt.
Price: $4.50 for 10 oz.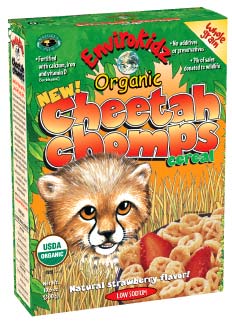 Cheetah Chomps by Nature's Path
Crunchy, little cheetah faces, floating in a bowl of organic milk, tasting very strawberry-ish.
We don't know about you, but we'll race our kids to get a bowl of this delicious cereal, and we will win.
Only 6 gm. sugar per 3/4 cup serving.

Ingredients:Organic whole wheat meal, organic evaporated cane juice, organic brown rice flour, organic cornmeal, organic corn flour, inulin (from chicory root), organic whole oat flour, calcium carbonate, natural strawberry flavor, sea salt, vitamin D, reduced iron.

Price: $4.50 for 13.25 oz.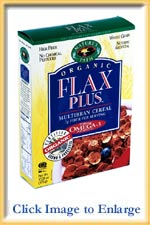 Flax Plus by Nature's Path
Tasty, crunchy and nutty, and, to top it off, high in Omega3. Add organic raisins to this natural cereal and it is delicious for both children and parents.
Ingredients:Organic whole wheat flour, organic wheat bran, organic evaporated cane juice, organic flaxseed, organic oat bran, organic barley malt extract, rice extract, sea salt, natural vitamin E (tocopherol).
Price: $4.50 for 13.25 oz.


Panda Puffs by Nature's Path
Imagine! Peanut-butter, at the beginning of the day! The kids LOVE it!
Ingredients: Organic corn meal, organic evaporated cane juice, organic peanut butter, sea salt, non-GMO Vitamin E (tocopherals).
Price: $4.50 for 10.6 oz.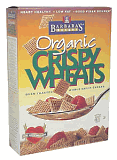 Crispy Wheats by Barbara's
Tasty wheat cereal. Keeps its' crisp in milk. Delicious with bananas.
Ingredients: Organic whole wheat flour, organic dehydrated cane juice, organic barley malt extract, sea salt, natural vitamin E, Vitamin C. (May contain traces of peanuts or other nuts.)
Price: $4.50 for 14 oz.

McCann's Irish Oatmeal
What a hearty and wholesome oatmeal McCann's has put out for the last 150 years! It is thick, hearty and natural, and although it takes a little bit of time to cook, it is absolutely worth it! Try adding a little milk or cream, a pat of butter, maple syrup or honey, a handful of raw nuts or seeds and some organic raisins. You will never have to have oatmeal in a restaurant again to get this incredible taste! Natural, not organic.
Ingredients: 100% Irish Wholegrain Oats.
Price: $7.25 in 1.25 lb. tin.

McCann's Instant Oatmeal
If you are in a hurry, it's cold outside, and all you want to do is pour hot water into a cup or bowl and in a few seconds have piping hot delicious oatmeal, then you can't beat McCann's Instant Oatmeal in individual packets. Our children like the diversity in the Variety Pack, which includes Maple and Brown Sugar, Apples and Cinnamon and Regular Oatmeal. Has a number of vitamins thrown into the blend. Not organic. No artificial preservatives, flavors or colors.

Ingredients vary slightly among the three, but include Whole grain rolled oats with oat bran, sugar, guar gum, salt, calcium carbonate, natural flavors, ferric orthophosphate (a source of iron), Vitamin A Palmitate, niacinamide, pyridoxine hydrochloride (Vitamin B6), thiamin mononitrate, riboflavin and folic acid.
Price: $4.25 for 10 packets.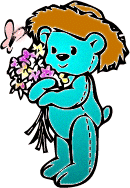 Teddy Puff Cereal by Healthy Times
"Yummy, Meow-Meow!", our toddler squeals. We parents translate this gleeful exclamation to mean "Delicious breakfast!"
Tasty little bear face cereal in Apple Cinnamon or Regular Flavor. For breakfast or as a treat. For toddlers or big kids.
Ingredients:Organic whole grain oats, organic brown rice, organic corn, organic evaporated unrefined cane juice, calcium carbonate, tocopherols (vitamin E). With added niacin, elecrolytic iron, zinc oxide, Vitamin B6, B12 and B1.
Price: $3.75
<>
Arrowhead Mills Buckwheat Pancake and Waffle Mix
This is a fast, easy and delicious pre-made mix for pancakes or waffles. Just add water, mix, and pour onto the griddle! Top with pure maple syrup, organic jam or fresh organic bananas and walnuts for a truly delicious breakfast.
Ingredients: Organic Buckwheat Flour, Organic Whole Wheat Flour, Sweet Whey, Non-Alum Baking Powder, and Sea Salt.
Price: $5.75 for 32 oz.
Gluten-Free Pancake and Baking Mix
by Arrowhead Mills
Hallelujah! Now our son can have the pancakes he loves so much! Thank goodness for Arrowhead Mills in making this mix for kids of all ages that have a celiac condition, can't have wheat, or can't digest gluten. We add a little more cinnamon powder to get the pancakes and extra "umph". Eat up, Big Kids from Everywhere!
Ingredients:Organic White Rice Flour, Organic Potato Starch, Tapioca Starch, Baking Powder (Monocalcium Phosphate, Sodium Bicarbonate, Corn Starch), Organic Whole Grain Yellow Corn Flour, Natural Flavor, Sea Salt, Organic Cinnamon. Price: $7.25 for 28 oz.
Eat fresh bananas, apples, oranges, or melons with breakfast. Nothing beats fresh foods, and remember, organic is best!