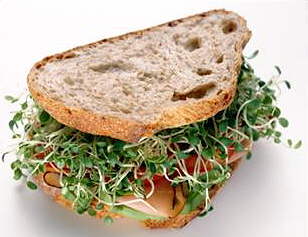 Homepage
Definitions
Baby Comforts
Breakfast for Champions
Lunch Box Ideas
What to Carry in Snack Pack for Kids and Mom on the Go
Family Health Maintenance
Hygiene/Bath Essentials
Moms' Corner
Fourteen Most Important Foods to Eat Organic
Exciting Gift Ideas for Children
Words to Live By
KidsOrganics goes to Your School or Organization
Individual So. California Consultations
Fresh, Organic Produce To Your Door!
How to Buy From Us
Who We Are
Links We Love
Lunch Box Ideas
Okay. Another Monday and what do you pack your child for lunch? Here are some ideas on what to pack in that Spider-Man or CEO Barbie lunchbox.

Be advised, these suggestions are preservative, chemical, GMO and additive-free, balanced, nutritious, healthy, tasty, and fun--they will also keep your child focused and ready for learning. Hurray! Ready?
Headliners--Sandwiches and Such

Cream cheese and pickles on toasted Kamut bread or a gluten free bread like Ezequiel's.

Baby greens, cheese and turkey breast without nitrates wrapped in whole grain tortillas

Turkey breast straight from the turkey, no nitrates, in halved pita bread with lettuce, safflower mayo and pickles or sweet relish

Egg salad made with organic relish, mustard and safflower mayonnaise on rye or whole wheat bread

Sliced organic cheese or cheese sticks from an organic dairy like Horizon

Hot, homemade soup in an insulated thermos and a baggie full of organic crackers by Hain

**Use cookie cutters to cut sandwiches into different shapes for aesthetic appeal

Co-Stars

AltaDena cottage cheese mixed with pineapple, peaches, trail mix or frozen organic rasberries drizzled with a tad of maple syrup

Sliced apples, oranges, cold grapes, whole organic bananas

Stonyfield Planet Protection Low-fat Yogurt (Banilla--wonderfully yummy!)

Sunflower seeds, pistachios

Almond butter mixed with honey in a small container. Along with it, a Baggie-full of cut apples, carrots and celery.

Organic crackers or organic salt-free mini pretzels

---

Closing Acts

Organic soymilk in cartons

100% juice in thermos or carton

Rice pudding--cooked brown rice mixed with vanilla yogurt, organic raisins, cinnamon and a sprinkling of brown sugar.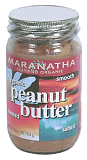 Marantha Peanut and Almond Butters
Ah, these are the creamiest, fullest-tasting nut butters we have ever tasted. Maranatha--you won't be forgetting this name.
Ingredients: : Organic dry roasted peanuts.
Almond Butter ingredients: Organic dry roasted almonds. (Made in a plant that processes peanuts.)
Visit ShopNatural -
Where natural and organic products are direct to you! Just type in "maranatha".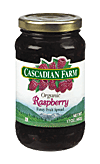 Cascadian Farms Organic Jams
Try them with peanut butter, on pancakes, or cream cheese, or maybe just off of the spoon. Tasty!
Ingredients: Organic sugar, organic fruit, water, pectin, lemon juice, citric acid.
Visit ShopNatural -
and type in "cascadian" in the search box.



Organic Breads from Pacific Bakeries
Available in Rye, Spelt, Spelt White and Kamut.
Delicious firmly-packed organic bread. Yeast-free. Great for individuals who are wheat or yeast intolerant, or allergy-free people who just want an incredible-tasting bread. Freezes and stores very well.

Price: $6.25 for Spelt
$6.25 for Rye
$6.25 for Kamut
$6.25 for White Spelt (tastes like Sourdough).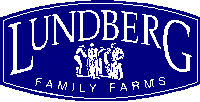 Lundberg Organic Rice Cakes
Brown Rice, Mochi Sweet, Wild Rice, Tamari Seaweed, Sesame Tamari, Multigrain with Seeds, Koku Sesame, and Koku Seaweed varieties.
Visit ShopNatural -
and type into search box, the word "lundberg".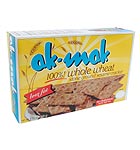 Ak-mak--the Armenian Cracker Bread
Delicious whole wheat crackers with sesame seeds. These save well, travel well, and are a very nutritious snack at home or on the road. Great with cheese, mustard, hummous, or by themselves.
Ingredients: 100% Stone-ground whole wheat flour, water, clover honey, sesame oil, dairy butter, sesame seeds, yeast and salt.
Visit ShopNatural
and type into search box, the word "akmak".
Mayonnaise
There are so many delicious mayonnaise' out there. Hmmm. Problem is, most of these contain soybean oil, and 80% or more of soybean products are genetically-modified and unlabeled as to their modification.

KidsOrganics has decided not to play the dangerous roulette game of trying to determine whether or not a food has been genetically altered. Odds are against the consumers of conventionally grown crops. And until the FDA or the USDA mandates that growers and food processors label a product as genetically modified or not, we prefer to avoid all potential GMO crops that do not have an "Organic" label on them.

Hain Safflower Mayonnaise will make you forget your old stand-by's. It is rich, it is creamy, it is all-natural, it is high in Vitamin E, and it is incredibly yummy. Adios, old flame! Hello, Hain!

Ingredients:Expeller pressed safflower oil, whole eggs, grain vinegar, water, egg yolks, sea salt, dehydrated cane juice, spice, lemon juice concentrate, honey, d-alpha Tocopherlyl acetate (Vitamin E), Rosemary extractives, natural flavor, paprika extractives for color.
Visit ShopNatural -
and type in Hain
Organic Fruit Leather by Stretch Island
Available in Organic Grape, Organic Strawberry, Organic Raspberry and Organic Apple.
These are convenient snacks which travel very well, and the kids love them. We love the no added sugars, artificial flavors or artificial colors.
Ingredients:(Grape--Organic apples and organic grapes), (Apple--Organic apples, organic lemon juice and organic cinnamon), (Strawberry--Organic apples , organic strawberries, organic lemon juice and organic strawberry flavor), (Raspberry--Organic apples, organic raspberries and organic lemon juice).
ShopNatural -
and type in "Stretch Island".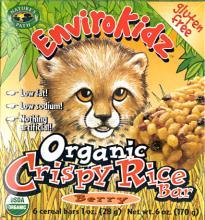 Organic Crispy Rice Bars by Nature's Path.
Delicous, moist rice bars in Berry, Peanut Butter and Chocolate. Great snack and a quick and nutritious addition to a lunch box. Be assured, the Chocolate Rice Bar has but a hint of cocoa. Try it yourself before letting the kids have one. Six bars per box. :)
Ingredients: Organic crispy rice (organic brown rice flour, organic evaporated cane juice, sea salt, organic molasses, rice extract), partially polished organic brown rice syrup, organic honey, organic peanut butter (peanuts, salt), organic invert cane syrup, organic expeller-pressed canola oil, organic acacia gum, organic corn starch.

(Substitute organic cocoa/organic chocolate flavor and organic berry flavor for the peanut butter to know ingredients for Berry and Chocolate)

Visit ShopNatural -
and type in "Nature's Path".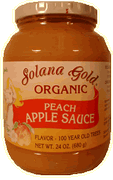 Organic Applesauce by Solana Gold
This is the most delicious applesauce we have ever tasted. The Peach Applesauce, once opened, is gone within 30 minutes, it is so scrumptious!
Other flavors include Blackberry Applesauce, Boysenberry, Raspberry, Strawberry, and just plain Gravenstein Applesauce.
Ingredients: Certified organic apples. And organic berries or organic peaches, depending which you choose.
Visit ShopNatural -
and type "Solana Gold" into the search box!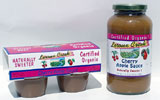 Leroux Creek
Leroux has gone organic! Yahoo! Now you can put individual serving sizes in little Suzie's lunchbox. Don't forget to add the spoon!

Natural Value Wax Paper Bags, Unbleached.

Plastic ziplock bags, effective and easy, no doubt. However, plastic leaches chemicals into the food it holds, takes forever to disintegrate, and poisons our environment. So what to do?---Wax paper bags by Natural Value! Holds the sandwich, the chips, the carrots, the raisins, everything but the yogurt. Whew! Now, your conscience can be clear.
Visit ShopNatural -
and type "natural value" into search box. Do not be deterred--the bags ARE available!
Visit Stonyfield Farm to get E-Coupons
for their yogurt
and "Moosletters" focusing on organic
recipes, and ways
you can make a difference!
The USDA and FDA have just approved serving children and elderly folk irradiated foods for their lunch.

If this bothers you,
send your child to school
with lunches made at home.

If this doesn't bother you, read on . . .